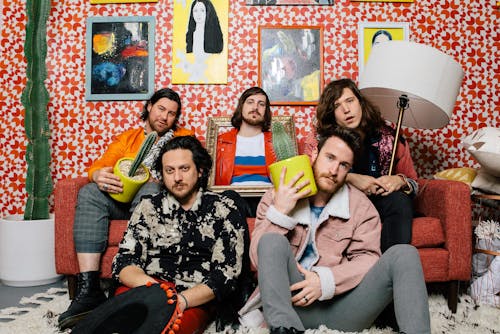 The Unlikely Candidates
Zero 9:36, The Federal Empire
$15.00 - $18.00
Postponed
The Unlikely Candidates' March 27 show at Slowdown has been postponed.
We are currently working on a new date for the show and will post that as soon as we have it. All tickets purchased for the March 27 show will be honored for the new date. We appreciate your understanding.
About The Unlikely Candidates
Based out of Fort Worth, Texas, The Unlikely Candidates are an indie rock band initially formed as an acoustic duo by childhood friends Kyle Morris and Cole Male in 2008. Eventually expanding the lineup to include guitarist Brenton Carney, bassist Jared Hornbeek, and drummer Kevin Goddard, the band was also able to expand its sound in bigger, more sweeping directions. In 2013, the band signed on with major-label Atlantic and released their debut EP, Follow My Feet. In early 2016, the Unlikely Candidates returned with a hooky new single in "You Love Could Start a War," which made a strong showing on Billboard's Alternative Songs chart.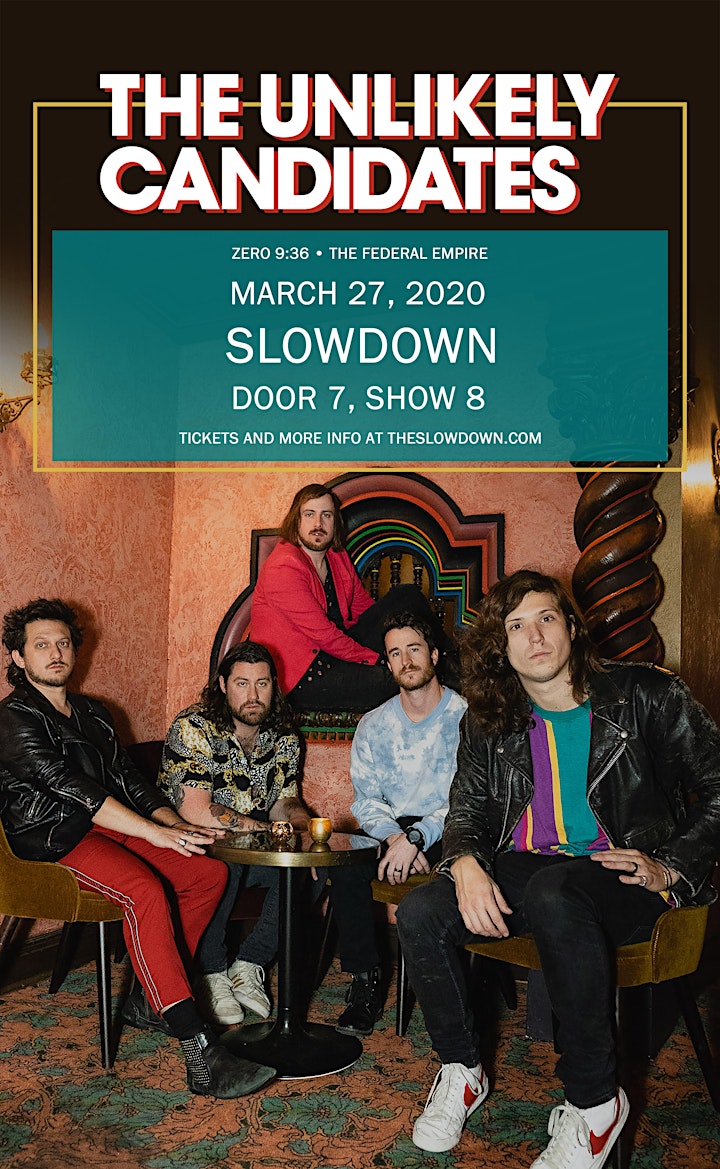 About Zero 9:36
Zero is a Philadelphia recording Rock/Alternative Rock artist who has worked with people such as Tory Lanez, PnB Rock, Futuristic, Huey Mack, Play Picasso & More.
About The Federal Empire
--The Federal Empire is a Los Angeles based alternative duo made up of Chad Wolf (platinum selling Carolina Liar) and Grammy nominated songwriter, McKay Stevens. In their short career they have amassed over 40 million streams on Spotify including huge collaborations with Martin Garrix and Sam Feldt. Their latest single has already climbed the alternative charts in just a couple short months and their music has been featured in huge shows on Fox, ABC, NBC as well as in the NHL Stanley Cup Playoffs and a number of other sports placements. Their songwriting often includes tongue in cheek lyrics alongside anthemic gang vocals that will leave you singing along for days.--

Venue Information:
Slowdown - Front Room
729 North 14th Street
Omaha, NE, 68102