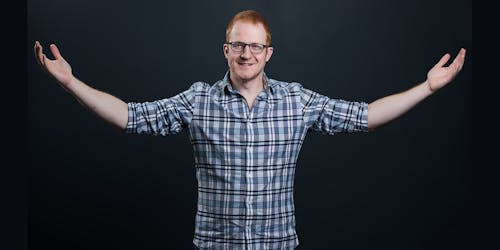 Author, columnist, and comedian Steve Hofstetter will bring the laughs to Slowdown on May 22.
Doors at 7:00pm
Main Room
$51 Reserved First Two Rows & Pitsides - Ticket also includes album download
$26 General Admission (all other seats)
All ages show. Check entry requirements at http://theslowdown.com/All-Ages
Reserved seats are first come, first pick within the section. See the seating map here.
About Steve Hofstetter
Website | Facebook | Twitter | YouTube | Instagram

Author, columnist, and comedian Steve Hofstetter is often called the hardest working man in show-business. With all due respect to the late James Brown.

Hofstetter's national TV debut came on ESPN's Quite Frankly, where Stephen A. Smith yelled at him for three minutes. Hofstetter has also appeared on CBS' "Late Late Show With Craig Ferguson", Showtime's "White Boyz in the Hood", VH1's "Countdown", Sundance's "On the Road in America", and ABC's "Barbara Walter's Special", where he thankfully did not cry. He is the host and executive producer of "Laughs" on Fox networks, where he only cries occasionally.

One of the top booked acts on the college circuit, the original writer for collegehumor.com has also released six albums. Hofstetter has written humor columns for the New York Times, SportsIllustrated.com, and NHL.com, where he publicly admitted to being a Ranger fan.

After hosting Four Quotas on Sirius Satellite Radio for two seasons, Hofstetter moved to broadcast radio, and his Sports Minute (Or So) was syndicated on over 170 stations and in over 30 newspapers. Hofstetter's second live comedy album ("Cure For the Cable Guy") reached #20 on Billboard's comedy charts. His third album ("Dark Side of the Room") was the first ever pay-what-you-want" comedy album, since people were going to steal it anyway. His fourth album consisted of an hour of 100% ad-libbed material, which is, frankly, nuts. And his fifth album hit #1 on iTunes' comedy charts, which is also a bit nuts.

Hofstetter's brutal tour schedule consists of over 100 colleges and dozens of clubs every year, and is fueled by an immense online popularity, tons of press, and a Prius with great gas mileage. He reached 200,000 friends on Facebook (still the world record), 400,000 more on MySpace, and high shelves in grocery stores.

While Hofstetter's live shows are routinely sold out, he is best known for his writing, first published at age 15, mainly to impress girls. At 18, he co-founded "Sports Jerk of the Week", an irreverent website featured by press like USA Today's Baseball Weekly, Sports Illustrated and CNN. And at 20, Hofstetter took a year off of school to head up web content for the New York Yankees. The Yankees won the World Series that year, which would have been wonderful if they hadn't beaten Hofstetter's Mets. Yes, he's also a Mets fan. Poor kid.

While an undergraduate at Columbia University, Hofstetter was a well-read columnist for the Columbia Daily Spectator and a voice of the Lions. After a summer writing for Maxim, ESPN, and Sports Illustrated for Kids, Hofstetter syndicated his column in several newspapers.

Without his glasses, Hofstetter also looks a great deal like Michael Rappaport.

Venue Information:
Slowdown - Main Room
729 North 14 Street
Omaha, NE, 68102