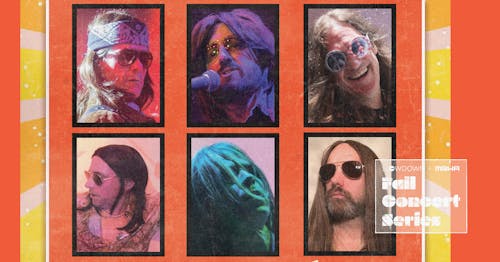 PetRock returns on October 2 as part of the Slowdown + Maha Fall Concert Series!
Doors at 5:00pm
Outside at Slowdown - Rain or Shine
$25
All ages show. Check entry requirements at http://theslowdown.com/All-Ages
This show will take place in our parking lot, located to the east side of Slowdown. The entrance will be located in the walkway between Slowdown and Hook & Lime. Please abide by the markings on the pavement when waiting in line for entry.
Your safety, and the safety of our team and visiting artists, are our first priorities at Slowdown. We've put measures in place at every guest and staff touchpoint to ensure that your experience is as safe and fun as possible.
The lot will be set up with 10'x10' sections or "pods." Pods are available first come, first pick and have a maximum capacity of 10 persons each. Pods may not be moved or combined. Feel free to bring a lawn chair if you would like to sit during the show.
All guests and staff are required to wear masks when entering and moving about the venue. For example, if you're walking to the bar or going to the restroom, a face mask must be worn. If you are within your pod the use of a mask is recommended but not required.
Be sure to be prepared when you arrive at the venue:
• Bring a mask that covers your nose and face
• Have your ticket and ID ready
• Bags or purses larger than 5"x6" are not allowed
• One folding chair or lawn chair per person is allowed
• Re-entry is not permitted
Our cleaning protocols and precautions have been elevated above the recommended requirements throughout the venue. This includes dedicated staff members for frequent cleaning of high-touchpoint areas.
Hand sanitizer will be available throughout the venue. Staff members will be accessible if sanitizing products need to be located or replenished.
Please refrain from entering Slowdown if you or anyone in your party are experiencing the following symptoms:
• Cough
• Fever
• Shortness of breath
• Other symptom of Covid related illness per CDC Guidelines
Please feel free to contact us if you have any questions, comments or concerns. Thank you for your continued cooperation and support. We cannot wait to see you again!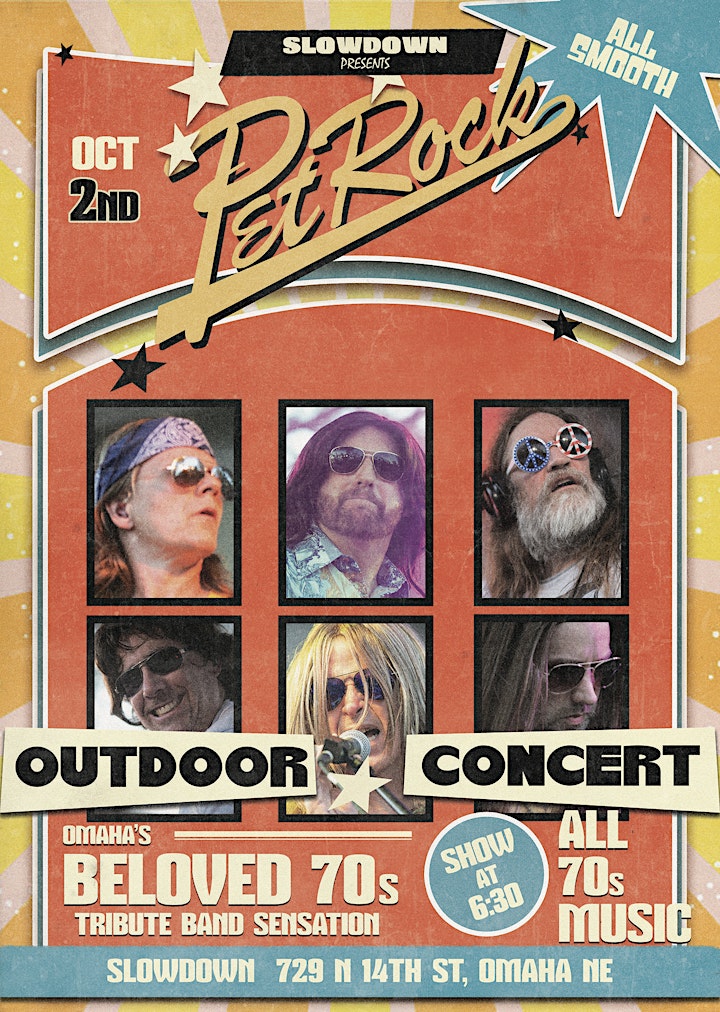 About PetRock
Website | Facebook | Twitter | Instagram

Cruising straight out of the 70s like an old friend comes PetRock - the pinnacle of 70s musical excellence. Since their debut performance, PetRock has played nonstop capacity shows, wowing ever-growing audiences with uncompromising excellence. Driven by a deep and everlasting love of the iconic and timeless music of the 70s and a (dare we say, fanatical?) dedication to delivering the most devoted, loving, and downright accurate 70s tribute experience possible, PetRock washes audiences with the cool grooves, smooth moves and timeless tunes of one of the greatest decades of music the world has ever known… Minus the Disco!

Venue Information:
Slowdown - Outside
729 North 14 Street
Omaha, NE, 68102