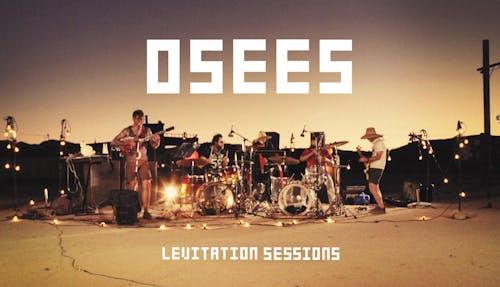 Catch OSEES on Levitation Sessions! Premieres Saturday, September 26.
"Lots of old favorites and 7 never before performed live hits from the crypt
recorded dusk till dawn in Pioneertown California
its raw and shreddy with a bit of elastic improvisation thrown in
come hang out with us for a few
crack a beer
meant to be played loud"
JPD
Premieres at 7pm CT on 9/26! Tickets + merch bundles & info here.
In addition to tickets to the streaming show, you can grab a download of the session, + limited edition cassettes and t-shirts with art by Isis Fisher, available exclusively as part of the stream. You can also grab a package that includes all that + a signed copy of the band's new album, Protean Threat! Also up for offer - a tie-dye version of the tee for the freaks.
TICKET OPTIONS
$3.98 | stream ticket
$9.98 | stream + lossless WAV + 320 KBPS MP3 download
ADD-ONS
$100 | cassette + shirt + LP signed by the band
$34.98 | cassette + t-shirt
$29.98 | tie dye t-shirt
$24.98 | t-shirt
$13.98 | cassette
T-shirts and cassettes are limited editions only available as part of the stream! Tie dye t-shirts are hand dyed and are each one of a kind.
WATCHING THE STREAM
You'll receive an email or text alert to remind you to tune in.
The band will be logged in with ticket holders during the premiere, and able to chat with you AMA style 🙂
The chat window opens 15 minutes before the show, come by, test your viewing experience and say hello.
To watch from your TV or other device, check out this FAQ
Can't make the show time? No worries, the stream will be available to watch at any time you prefer until OCT 8 at midnight CT! And you can rewatch as many times as you like too.
Venue Information: