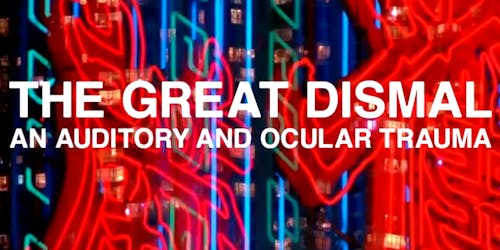 The Great Dismal: An Auditory And Ocular Trauma
Nothing
Full Of Hell
$15.00
Sales Ended
On Nothing
The Great Dismal, a live stream event event for the brand new record from Nothing, will blow your mind and ears on October 29.
Livestream begins at 8pm. Details will be sent from Nothing following ticket purchase.
$15 stream.
All ages show. Chrome and a solid, high speed internet that is connected to a large TV and loud stereo recommended.
About Nothing
Website | Facebook | Twitter | YouTube | Instagram
NOTHING announce a live-streamed record release show for their new album The Great Dismal brought to you by Kickstarter Music, Vans, Fender, and Slane Irish Whiskey. The event will take place on 10/29 at 9PM EST, a day before the release of The Great Dismal. The event was purposefully formulated as a way to support live music workers worldwide with a proper paid gig while venues and their staff are out of work due to the pandemic.
All tickets sold directly through bandofnothing.com will see 20% of sales donated to NIVA Emergency Relief Fund. Palermo then constructed a collective of worldwide independent promoters who have played pivotal roles in the band's 10 year history who will receive 20% of the tickets that they sell in their respective territories including Russia, Europe, UK, Asia, Australia and South America will benefit independent promoters operating in those territories. The show will feature performances by NOTHING and special guests Full of Hell, as well as collaborations with creatives that the band sought out specifically for this performance, such as filmmakers Mike Martinez and Tyler Wray of Everything Is Stories, visionary projectionist Ricardo Rivera of Klip Collective, and experimental videographer Frank Huang. The Great Dismal: An Auditory And Ocular Trauma Featuring Nothing and Full Of Hell can be viewed on www.BANDOFNOTHING.com.
NOTHING return with their highly anticipated new full-length, The Great Dismal. Recorded throughout quarantine with producer Will Yip at Pennsylvania's Studio Four, The Great Dismal explores existentialist themes of isolation, extinction, and human behavior in the face of 2020's vast wasteland. Arriving just prior to the band's ten year anniversary, The Great Dismal is out October 30th on LP/CD/CS/Digital via Relapse Records.
Venue Information: