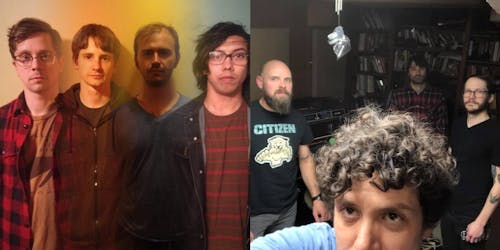 Streaming Live from Slowdown
Noah's Ark Was A Spaceship
Little Brazil
Noah's Ark Was A Spaceship and Little Brazil will stream live sets from the Main Room at Slowdown on May 23.
Live stream begins at 8pm. Ticket holders will receive a link to the event both 48 hours and 10 minutes prior to the event. Performances begin at 8:15pm.
$5 stream. Tips/donations for more if you wish.
All ages show. Chrome and a solid, high speed internet that is connected to a large TV and loud stereo recommended.
About Little Brazil
The two consistent members of Little Brazil, Landon Hedges and Dan Maxwell, have been chasing the same thrill since they were five years old, back when Dan's older brothers started a punk band, with practice space in the Maxwell basement. Hook, line, and sinker. Landon and Dan had no choice but to spend the rest of their pre-pubescent years crouched on the basement steps, not wearing earplugs. It didn't matter if the music was good or bad or too loud to tell. J. Mascis and D. Boon and Paul Westerberg were alive in that basement, cranked through budget amplifiers and out of tune.
Fast forward three decades and Landon and Dan are still making music together. Little Brazil is their most accomplished and longest running project - fifteen years. Over that time the band has built an impressive resume. They've released four full lengths and done the national tours, both headlining and as support.
Those credentials don't matter now though. What's important is the new record, Send the Wolves. It is the product of thirty years spent on basement steps, idolizing guitars; a reflection of what life is like when the initial thrill never goes away. When it's carried through adulthood. Through having children and marriage and bartending into bartending into bartending. That persistence of spirit lends a sincerity to Send the Wolves. It captures the feeling of going paycheck to paycheck, scrounging tips for the early tours, leaving with nothing and coming back with less. Those tours when the van breaks down on the side of the highway but it doesn't matter because you're out there doing it. Send the Wolves captures the triumphs, too. The packed shows. The reviews, features, interviews. The things that prove you're playing to something other than corn and soy and prairie. Throughout all the ups and downs, Landon and Dan have remained the same wide-eyed kids on the basement steps, just wishing they were big enough to pick up the instruments.
Send the Wolves has been nine years in the making, with several members coming and going. The result is cohesive yet nuanced. There is a singular sound that is unique to Little Brazil, but Omaha's fingerprints are all over the album, with a handful of the city's finest adding guest contributions to the final cut. Those who helped shape Little Brazil over the years come from different musical backgrounds, age, and experience but they all have one thing in common: at a certain point when they were too young to know any better, they all fell in love with loud guitars in shitty basements. If you at all know the experience, Send the Wolves will punch you in the gut. And it's not a sucker punch. It's a good sincere uppercut, straight from the basement. I hope that spirit never dies.
Venue Information: