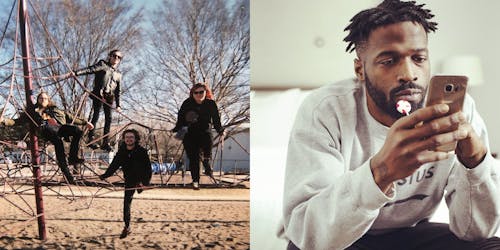 No Thanks and Marcey Yates will stream live sets from the Main Room at Slowdown on May 21.
Live stream begins at 8pm. Ticket holders will receive a link to the event both 48 hours and 10 minutes prior to the event. Performances begin at 8:30pm.
$5 stream. Tips/donations for more if you wish.
All ages show. Chrome and a solid, high speed internet that is connected to a large TV and loud stereo recommended.
About No Thanks
Omaha's spookiest political punk act. Death to capitalism, death to everything.
We're blessed to have shared stages with modern acts like Protomartyr, Ceremony, Screaming Females, Gouge Away, Ex-Cult, Plack Blague, and See Through Dresses, along with classic acts like DRI.
Our album ​The Trial ​dropped in January 2018 and we've been running around the country scaring yuppies ever since.
About Marcey Yates
Bandcamp | Facebook | Soundcloud
Hip hop artist Marcey Yates, also known by his alter ego Op2mus, is changing the face of Omaha's hip hop scene with his mix of raw talent, copious discography and a heavy dose of charisma. Yates graduated from The Conservative School of Recording Arts and Sciences in Arizona. With a sound that can be described as expressive vinyl hip hop, Yates partially attributes his soulful vibe and sample­ based production to his influences, including classics like Slum Village, Common, Talib Kweli, Mos Def, Pete Rock, Kanye West, and J Dilla. Yates commands attention from his audience and carries that juneau se quois that keep fans fixated throughout his set. Yates is one of the hardest working people in the scene, if not evident by his involvement in the community and number of shows then by his extensive discography. As both an emcee and producer, Yates collaborates with others in a variety of capacities. In addition to his solo work, Yates is one half of the duo Dilla Kids featuring Xoboi and regularly lends his talents as an established producer to emcees searching for the ideal beat. Yates has played with Rakim, P.O.S, Black Milk, Freddie Gibbs, Clear Soul Forces,B-Real, Weezer and more. Notable Festivals include Maha Festival, Lincoln Calling festival, and SXSW. His band Dilla Kids just won best rap hip hop award for 2018 Omaha Arts & Entertainment.
Venue Information: