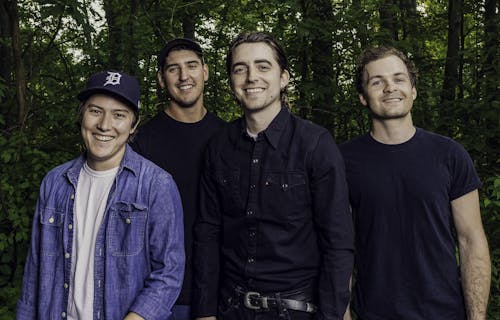 Michigan Rattlers will bring their heavy-hearted folk-rock to Slowdown on September 10.
This show was originally scheduled for April 4. All tickets from the April show will be honored and do not need to be changed, updated, or reprinted.
Doors at 8:00pm
Slowdown
$10 Advance/$12 Day of Show
All Ages Show. Check entry requirements at http://theslowdown.com/All-Ages
About Michigan Rattlers
Website | Facebook | SoundCloud | Spotify
Lifelong friends and deep-north natives, Michigan Rattlers play heavy-hearted folk-rock with an aching dose of Midwestern nice. Graham Young (lead vocals/guitar), Adam Reed (vocals/upright bass), Christian Wilder (vocals/piano) and Tony Audia (drums) began writing music and performing together in their Northern Michigan high school. They regularly played every bar, cafe, and stage in town, developing a musical chemistry informed by the likes of AC/DC, Creedence Clearwater Revival, Bob Seger, and more. After a few years apart, Reed and Young settled down in Los Angeles, recorded a short demo, and began playing locally. The demo found its way in the hands of super-producer Johnny K, and they cut the bulk of their first EP at NRG studios in just one day. This self-titled Michigan Rattlers EP attracted glowing reviews from No Depression, Bluegrass Situation, Relix, Glide, Grammy.com and more. Rolling Stone named the band one of their "Ten New Country Artists You Need To Know." In 2018, following a massive summer tour that included stops at Bonnaroo, Firefly and Electric Forest; the band released their highly anticipated debut full length album, Evergreen, and added pianist Christian Wilder and drummer Tony Audia to their lineup. The Michigan Rattlers are currently in the studio recording their second full length album in between tour dates.
About Ferris & Sylvester
Website | Facebook | Instagram | Spotify

Ferris & Sylvester are a force to be reckoned with. They are honest and unashamed, bold and unapologetic. With clear references in their catchy setup to the mid-60s sounds of Greenwich Village combined with their meatier blues tones, the British duo sit somewhere between Jack White and First Aid Kit. Archie Sylvester's voice, redolent of a grittier Lowell George, is warm and powerful yet bruised around the edges. There's a touch of Derek Trucks in Archie's gritty slide and dark, broken tones. His fidelity is the keystone that emboldens Issy Ferris with the freedom to explore the emotions in her voice; at times she shreds her declarations like a twisted Janis Joplin, at others she exposes a bitter fragility reminiscent of Joni Mitchell. As a live act, they are impossible to ignore.

The pair met three years ago in London's best-kept-secret blues joint, Spiritual Bar and have since won over the nation with their ever-growing live presence and songwriting. Obsessed with getting their music out there and with next to no team or budget, the duo released their 'Made In Streatham' EP (Feb 2018), which they recorded and self-produced in their South London flat. Released through their own label 'Archtop Records', the EP has clocked up millions of streams on Spotify, rose to No.1 on the iTunes Singer-Songwriter chart and received widespread praise across the board - 'A masterpiece of Brit Folk' - MOJO Magazine. After a monumental year of touring in 2018 and sharing the stage with the likes of Robert Plant, Eric Clapton, George Ezra and Jade Bird, Ferris & Sylvester have evolved their live set into a distinct and unique combination of Americana, Blues and Rock n Roll. This year, they sold out their debut headline tour, played 12 shows at SXSW, recorded at Maida Vale Studios and played their first Glastonbury. With their eyes fixed on their debut album and their 20 date headline tour around the corner, the duo have expanded their sound into deeper and darker places.

Venue Information:
Slowdown - Front Room
729 North 14th Street
Omaha, NE, 68102