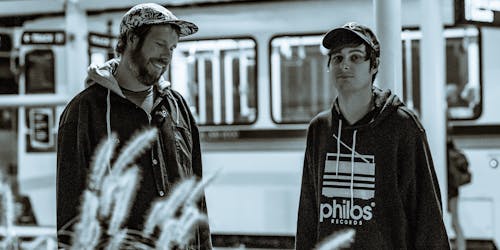 Slowdown and 8th House Productions Present
Late Night Radio
Daily Bread
Recess, Loveland
Late Night Radio and Daily Bread will co-headline a night of DJs, hip hop, funk, and fun on August 7.
This show was originally scheduled for April 2. All tickets from the April show will be honored and do not need to be changed, updated, or reprinted.
Doors at 8:00pm
Front Room
$12 Advance/$15 Day of Show
All ages show. Check entry requirements at http://theslowdown.com/All-Ages
About Late Night Radio
The story of Late Night Radio starts in what might seem to be the most unexpected of places: church.
Long before he cooked up his hypnotic hybrid of electronic music, hip-hop, soul, and funk, the artist born Alex Medellin spent countless hours watching mom sing two masses every week. Learning guitar and piano throughout his childhood, obsessing over everything from UGK and DJ Screw to The Doors and The Beatles, and internalizing those formative experiences, he capitalizes on that latent influence with his 2018 full-length debut, the appropriately titled Sunday [Thilos Records].
"I only recently realized it, but my favorite music is always hair-raising," he exclaims. "I'm really into feel-good hip-hop, soul, and funk, and all of those styles are rooted in gospel progressions. As I've gotten older, that really had an effect on my music. For Sunday, the vision was to take bits and pieces of those genres and chop them up into something new. It was a natural step for me to pay homage to what I grew up on. You could call it 'Sunday music'."
It's also a style he's been working towards perfecting for nearly a decade. The Houston native bounced from New Orleans to Austin to Temecula and eventually Big Bear. During 2011, he started composing music for online videos and commercials before relocating to Colorado and seriously pursuing the art as a career, going full-time in 2014. Along the way, he released a series of fan favorite EPs—Concrete College [2012], Far Into the Night [2013], Soap Box [2014], and Reflective Tangents [2016]. The latter yielded "Find the Love" [feat. Borahm Lee], which clocked over 664K Spotify streams as the EP cumulatively tallied 2 million-plus. Emotionally charged and explosive live sets transformed Late Night Radio into a Denver sensation.
As the artist commenced work on Sunday, he broke the mold yet again. For the first time, the recording would be completely live, featuring his guitar playing and keys as well as live horn sections, trumpet, trombone, and saxophone. Additionally, it became his longest project at 11 tracks.
"The easiest way to describe my music is, 'Electronic music for people who don't really like electronic music'," he continues. "There's hip-hop bass and beats, which keep it relevant. However, I'm taking it into new territory."
Representing that evolution, the first single "In My Mind" [feat. Julianna Reed & Kevin Donohue] hinges on funked-up clean guitar, glistening harmonies, jazz-y horns, and an airtight groove.
"That's my modern take on a soul song," he says. "It's about empowerment and staying positive through today's climate. It's a bit of a statement for me."
Meanwhile, the follow-up single "Overdue" segues from a steeple-size hum into a fingersnap-punctuated boom-bap beat that's impossible to shake. In the end, the moniker Late Night Radio reflects the vibrant versatility at the heart of the sound.
"At 3AM, DJs will play whatever they want on the radio," he leaves off. "That's what I'm doing. It's a very eclectic mix. It's who I am."
About Daily Bread
Facebook | Twitter | Instgram | Spotify | SoundCloud
Rhett Whatley, (born April 24, 1988) also known as Daily Bread, is a hip-hop producer and multi-instrumentalist from Atlanta, Georgia.
About Recess
Website | Twitter | SoundCloud
RECESS blends their funk backbone with swanky bass lines, bouncing old school beats, smooth guitar, and biting spacey synthesizer leads to take the listener on a methodical musical journey intended to touch on as many genres as possible. Since forming in 2014, Recess has spent countless hours in the studio perfecting their sound as well as performing live shows centered around a playground of improvisation and their intrinsic love for music. The duo, hailing from Fort Smith, AR and comprised of guitarist/producer Drew Birch and keyboardist Ian Gilley, have conjured a genre-bending sound, which channels everything from EDM to jazz and hip-hop. In 2016, Recess released their debut album "The Brothel Gospel" which entwines intricate melodies, raw funk, and powerful grooves that create a unique listening experience and make for an eccentric live performance. Their follow up EP "Channel Drift" with Cobrayama encompasses jazz fusion with heavy-hitting beats and a complex writing style that is unparalleled to contemporary electronic music. "Electric Playground" was released via Philos Records in 2018 on limited 10″ vinyl records and includes an impressive list of features and collaborating artists, adding to the duo's exciting catalog of releases.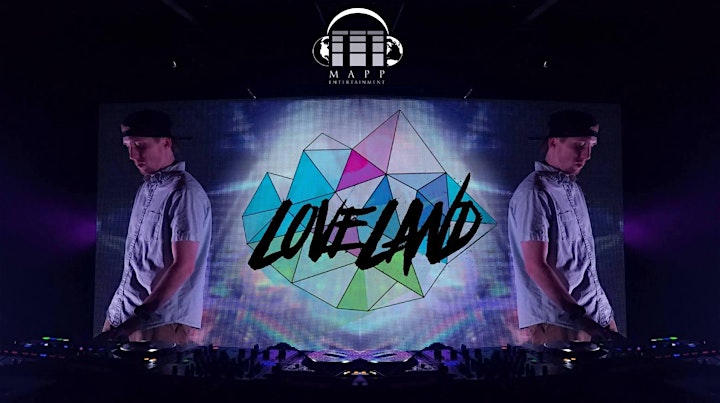 About Loveland
Website | Facebook | SoundCloud

I try to capture joy. I try to capture love. In my music, I attempt to instill happiness in the audience, I want my music to help you enjoy the moment and let go of your troubles. I want to you to feel purpose from my music that helps define or steer you towards your own purpose in this world. I hope to achieve that by sharing my soul so that it can open yours up to the endless possibilities you have. After all, that is how I found mine.

The colorful way that I choose to piece my music together resembles how I choose to see the world. With optimism, gratitude, a helping hand, and love. With these characteristics, I believe you can lead a full life. With these characteristics in mind I shape my music into what I believe to be quite beautiful.

I channel the energy from my friends and family into my work because they are the reason I am as happy as I am all the time. They are the true reason I do what I do. I make music for myself and for people who need it to lift them up. I want to share the beautiful moment of music and life with other people so they can see the truth and all come together and be at peace with ourselves together.

Venue Information:
Slowdown - Front Room
729 North 14th Street
Omaha, NE, 68102