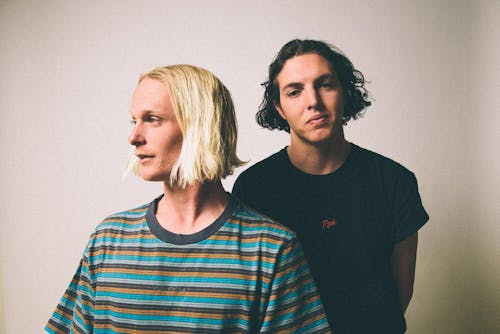 Hockey Dad's April 23 show at Slowdown has been postponed.
We are currently working on a new date for the show and will post that as soon as we have it. Please note that the current 12/31/2021 date is a placeholder until we have the new date.
All tickets purchased for the April 23, 2020 show will be honored for the new date and do not need to be changed, updated, or reprinted. We appreciate your understanding.
About Hockey Dad
Best mates first, bandmates second – the heart of Hockey Dad has always existed in the friendship between duo Zach Stephenson and Billy Fleming, who first met in early childhood, growing up two doors apart in the unassuming, laid back Australian coastal town of Windang, New South Wales. The foundations for the band began in early 2013, when an underage Fleming and Stephenson would sneak into their local live music haunt to catch their favorite bands. Eventually they were granted regular slots playing to an ever-growing crew of enthusiastic friends turned fans and released their Dreamin' EP on local Wollongong indie label Farmer & The Owl in 2014.
Now, the duo are on the verge of releasing their highly-anticipated second album Blend Inn, the follow up to 2016's debut Boronia. Where Boronia celebrated the long days of summers past, of mates, the ocean and the sublime naivety of youth, Blend Inn is Fleming and Stephenson coming to us with more perspective following a year of relentless touring which took them far from the streets and waves of their hometown.
The growth that Hockey Dad have experienced over the past 18 months has been no accident. The fast-paced, punk style of Billy's drums is executed in perfect synchronicity with Zach's jangly guitar, anthemic choruses and ever confident vocals to give life to their unmistakable and infectious brand of rock-pop. After Boronia's release, the duo embarked on sold out tours across Australia and toured extensively through North America, including showcases at SXSW and a Canadian tour with Dune Rats. 2017 took them to the UK, Europe, and further across Australia, including more shows alongside Dune Rats and Wavves in some of the country's biggest venues – a world away from the 70 cap band room where Hockey Dad first cut their teeth.
Landing in Seattle, the recording of Blend Inn began with renowned audio engineer and producer John Goodmanson (Bikini Kill, Sleater-Kinney, Cloud Nothings) at Robert Lang Studios. The studios, supposedly haunted, echo with their iconic past, having housed many of rock's legends over its time, including the Foo Fighters, Soundgarden, Death Cab For Cutie, Alice In Chains, and most notably, Nirvana, who recorded their last song there – the mic used in Kurt Cobain's final studio track still hangs in tribute. Here, Hockey Dad found a home away from home.
Where Boronia spoke of a physical place, named for home, Blend Inn refers to somewhere more introspective. "Blend Inn is the part of your head that you want to go to when you're overseas and wishing you were back home, it's within," says Fleming. "We're always just trying to be comfortable and semi blending in, so it's the name we gave to that place you zone out to." The album is Hockey Dad's boldest output to date, a natural progression for Fleming and Stephenson as they face the tribulations of young adulthood, a theme reflected across the record.
Blend Inn holds onto the charm and energy of youth which won hearts originally – the playfulness, the edge, that quintessential Hockey Dad surf rock sound – but it comes to us from two people with an expanded mindset. "We're still kids," reflects Fleming. "But we're just a little bit more… experienced."
About The Red Pears
The Red Pears are an indie/alternative band from El Monte, CA. The band consists of Henry Vargas on guitar and vocals, Jose Corona on drums, and their good friend Patrick Juarez helping on bass. The group started in the summer of 2014, when Jose and Henry got together with talks of forming another band having known each since high school and playing in different groups, separately and together. Things took off from there as they both shared similar influences, similar backgrounds and similar mindsets and visions.
They started as a duo, with their first gig together being an open mic at a church. Juan Aguilar soon joined the band on bass that same year. The duo became a trio and started playing anything from house parties, to bar, to coffee shops, to open mics. Things started moving fast as the release of "We Bring Anything to the Table... Except Tables, We Can't Bring Tables to the Table', garnered unexpected attention. They continued playing and noticed a growth in their audience throughout the years since.
​Juan unfortunately left the band early 2017, and their close friend Patrick kindly agreed to help the now duo out. The band has gone a long way from playing open mics at churches, to playing out of state, selling out venues like The Smell, The Constellation Room, The Echo, and The Roxy. And playing events like Dirty Penni Fest, Echo Park Rising and Tropicalia. They have done more than anyone would've thought or expected, including themselves. With a very loyal and supportive fan base, and with their latest record, 'For Today, For Tomorrow, For What Is, For What Could've Been', the group is reaching new heights and new territory that has been seen inconceivable for any Latino coming out of the San Gabriel Valley.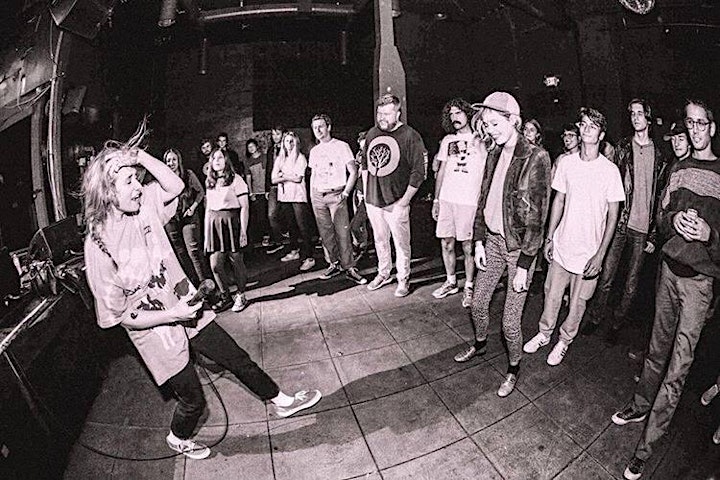 Venue Information:
Slowdown - Front Room
729 North 14th Street
Omaha, NE, 68102