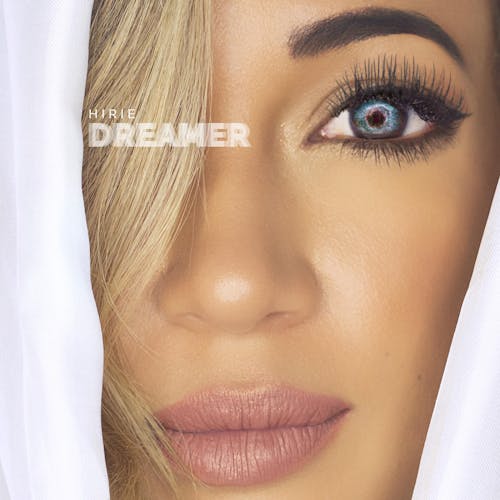 Rising reggae band HIRIE returns to Slowdown on November 10th.
Doors at 7:00pm
Front Room
$15 Advance/$17 Day of Show
All ages show. Check entry requirements at http://theslowdown.com/All-Ages
About HIRIE
Hirie­­ -- the frontwoman of the exhilarating reggae band HIRIE­­ -- grew up a global citizen. Her father worked for the United Nations and she was born in the Philippines, spent years in Italy, before her family settled in Hawaii, which became her spiritual home.
While in Hawaii, Hirie fell in love with reggae music, and took to the culture naturally. On the radio, and in conversation, she would hear the exclamation "iris." The popular reggae term is derived from a Jamaican patois, and it encompasses warmth and positivity -- it's a greeting, an affectionate term of approval, and a mindset. In these painfully complex times, we could all use some irie in our life.
San Diego's seven­-piece band HIRIE is ready to offer a global spiritual uplift. Melding the balmy island touches of its singer's beloved home -- as symbolized by its moniker's first letter, a "H" for "Hawaii," with that feeling of irie, the award­-winning group offers a soundtrack of hope. Now, with its masterful new album, Wandering Soul, brimming with invigorating female-­fronted shamanistic reggae an oasis of positivity is just an album away.
"Hirie is a lifestyle choice, it's about healing the body, the mind, and the spirit. Our fans and our band are always saying 'let's get HIRIE,' it's a way to detach from the painful complexities of the world, and bask in joyous energy," says the band's lead singer and sage who has taken the band's namesake for her own.
HIRIE is poppy and purposeful, harnessing the power of accessible songcraft, social consciousness, world class musicianship, and the disarming and spellbinding qualities of reggae, the band exudes mainstream appeal without diluting its artistic vision. HIRIE is Hirie lead vocals, guitar, uke; Chris Hampton saxophone, flute, melodica, and accordion; Andrew McKee trombone, guitar, didgeridoo, and percussion; Andy Flores bass; Blaine Dillinger lead guitar; and Joey Muraoka on drums.
The mission to spread HIRIE began in 2013, and, since then, the septet has garnered some high watermarks. HIRIE was nominated as San Diego's Best World Music Award, and its video for the hit "Sensi Boy" has accrued over 545,000 views. The group has received airplay nationally and internationally, with strongholds in Hawaii, Guam, New Zealand, and Tahiti, and in the college market. Its self­-titled album debuted at #4 on the iTunes Reggae chart and rocketed to #9 Billboard Reggae chart. For three years, the group toured tirelessly, building a robust and highly dedicated fanbase. Select live performance highlights, past and present, include nationwide tours with Tribal Seeds, Iration, J Boog, and The Rebelution Tour. In the fall of 2016, HIRIE will tour with Nahko & Medicine for the People.
Onstage, the band is comprised of formidable performers. A collective of virtuosic musicians united in the selfless power of serving the reggae skank. At the center of it all, leading the way to spiritual musical enlightenment, is Hirie. Her signature aesthetic conjures the seductive expressiveness of divas like Mariah Carey and Whitney Houston, the raw emotionality of Lauryn Hill and Tanya Stephens, and the mystic sensuality of Enya. Together, HIRIE put on a polished show complete with choreography that offers big ­production entertainment and big­ heart transcendence.
Hirie's immersion into the reggae lifestyle came at a young age through growing up in Hawaii, after stints living in the Philippines and Italy. Reggae is the top music in Hawaii, and it was only natural when Hirie emerged a singer­-songwriter she would be vocalizing over skank reggae rhythms. "It's just how I write music," she says. At 19, when she moved to San Diego, California she made the leap from open ­mic intimacy to craving the power and majesty of a full band.
In 2013, she issued her debut, but it would take three years of touring to produce the septet's defining work, thus far, Wandering Soul. True to its title, the album explores spiritual searching, the life-­changing experiences of meeting new people and sharing in the profound emotions that bond music fanatics. The album also celebrates the band's solidification as a creative powerhouse. Working together nonstop for three years sharpened HIRIE's chops, group musical interplay, and distinct pop-­reggae vision.
"Living like a gypsy, I began to pose a lot of foundational questions, and being in touch with fans and people on the road enlightened me. So there is this soul searching quality to the music, it's not religion, it's just a general feeling of spirituality," Hirie reveals.
Wandering Soul's lush construct reflects this depth. The songs feature chord sequences that have a sophisticated, tension and release accessibility. The musicianship is high-­level restraint, showcasing that point of mature virtuosity where laying back implies instrumental prowess. The album's trippy production -- the bulk of it courtesy of Danny Kalb (Beck, Ben Harper, Sia) -- replete with adventurous textured passages, heady dub segues, and subtle psychedelic flourishes, make it a rare headphone experience for a pop oriented record.
The album opens with the smoldering and ambitious title track -- a sonic journey through heartfelt longing, and heady dub passages. The militant "Renegade" features Nahko Bear of Nahko and Medicine For The People and boasts stately horns, simmering grooves, and call-­to-­arms individuality against the massification of culture. The personal "Melody of a Broken Heart" and "You Won't Be Alone" shine a light on personal domestic struggles. "I wrote 'You Won't Be Alone' for my daughter with the hopes that she understands my life when she hears me on the radio. I hope she understands how much I love her and how I can be a role model by showing her she can be anything she wants," Hirie confides. The sleek futuristic electronic textures of "Boom Fire" represents HIRIE's party vibe and exudes vivaciousness of in the moment HIRIE living.
Reflecting on the power of HIRIE, Hirie shares this story: "I met a fan who was suffering from six tumors. He shared with me 'Your music is the reason I get out of bed, you're my medicine.' That drives me to push this movement forward to share conscious music. I feel a responsibility and a duty to share a positive message."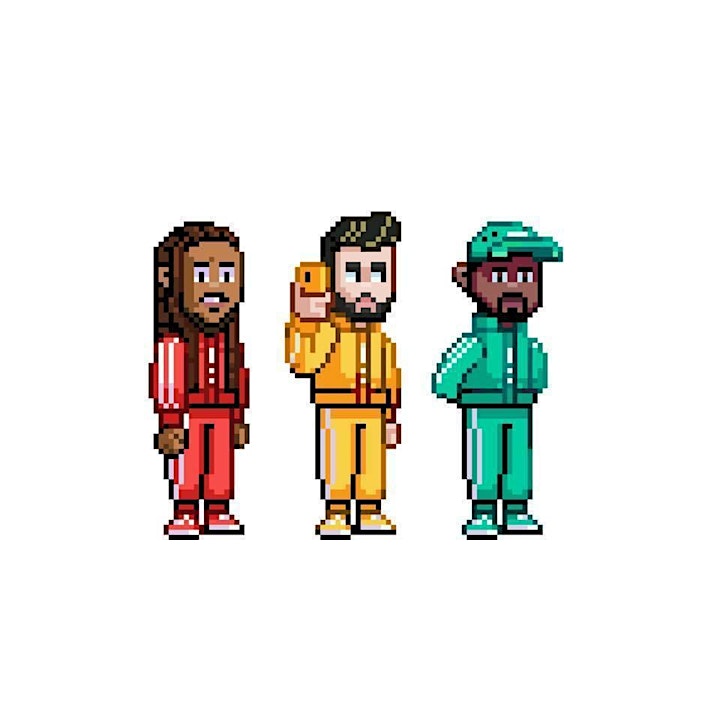 About RDGLDGRN
With a distinctive Go-Go drumbeat native to Washington D.C. serving as the backbone, RDGLDGRN (pronounced RDGLDGRN) takes hip-hop infused punk and indie rock and forges a new sound that is both deeply rooted in DC's sonic landscape, and transcends it.
Comprised of three members who identify as Red, Gold, and Green, RDGLDGRN began making music in their basement studio, drawing from a diverse pool of influences like Bob Marley, The Beatles, Chuck Brown, Vampire Weekend, Outkast, The Neptunes, and Bad Brains. The result, as HipHopDX put it, is band that melds both rap and rock "without falling short of either."
RDGLDGRN initially gained widespread recognition after self-releasing the song, "I Love Lamp," on YouTube, amassing over 100,000 views over just a few weeks and winning the attention of notable industry figures and tastemakers, including renowned producer Kevin Augunas, who signed the group to Fairfax Recordings and produced their debut album.
Recording that album would find them collaborating at length Dave Grohl, who not only shares a hometown with the group, but who decades before had recorded "Nevermind" with Nirvana in the same Sound City Studio where he would provide the drums for the entire RDGLDGRN LP.
The band also collaborated with the legendary genre-bending artist, producer, and designer, Pharrell Williams, who co-wrote and co-produced the standout track "Doing the Most," which showcases the breadth of the group's capabilities and their willingness to defy convention.
Along the way, RDGLDGRN have established themselves as a must-see live act, delivering eclectic and high-energy performances alongside Outkast, The Killers, Talib Kweli, 311 and AWOLNation. They've performed across the United States and Europe, playing the Irving Plaza in NYC, El Rey Theater in Los Angeles, Merriwether Post Pavilion in Maryland, Alexandra Palace in London, and Berlin Arena in Germany, as well as selling out U-Street Music Hall in front of their hometown DC crowd.
RDGLDGRN's upcoming album promises an evolution in their sound as the group suffuses its genre-bending musicality with a sly wit, honesty, and truly global worldview. With their first single, "No Pixar," RDGLDGRN confronts the trials of forging their own path and establishing their own sense of identity and morality—a move that not only has The Source calling RDGLDGRN "the rap game's Disney," but signals the band's willingness to step into the void. Not content to be the product of their myriad influences, RDGLDGRN continues to stake their claim as the new musical vanguard.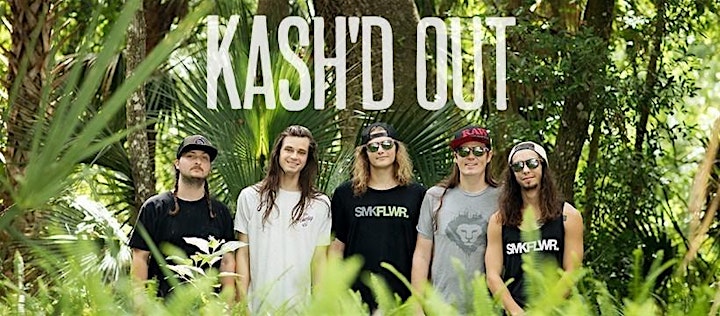 About Kash'd Out
Straight out of Orlando, FL, Kash'd Out hits the Reggae/Rock scene with plenty of experience. The band was formed by guitarist Jackson Hauserman and producers Greg Shields & Josh Saldate of Sound Lounge Studios, where bands such as Ballyhoo!, Tribal Seeds and many more have recorded. Once the self-titled debut EP was complete, they recruited Joey Brohawn on Bass and Marshall Hearne on drums, and Nick Gudzan on Keys. Kash'd Out released their first full-length album 5/26/17 entitled "The Hookup" via LAW Records. The record reached #2 on both the Billboard and iTunes Reggae Charts and the band began touring nationally, sharing the stage with bands like Pepper, Less Than Jake, The Expendables and many more. Come catch a show near you!

Venue Information:
Slowdown - Front Room
729 North 14th Street
Omaha, NE, 68102