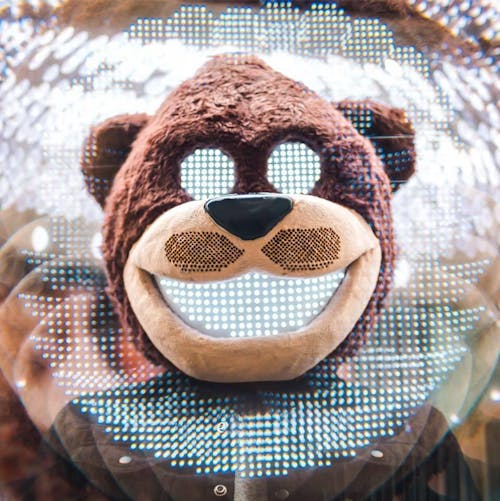 Slowdown and Borda Productions Present
Bear Grillz
Lucii the Alien, Somnium Sound, OG Nixin
EDM star Bear Grillz plays Slowdown on November 21st.
Doors at 8:00pm
Main Room
$18 Early Bird
$22 Advance/$25 Day of Show
All ages show. Check entry requirements at http://theslowdown.com/All-Ages
About Bear Grillz
Proving that opposable thumbs or a basic grasp of the human language are not necessary prerequisites for EDM domination, allow us to introduce to you Bear Grillz. He's certainly not your standard 28 year-old grizzly bear...
Hailing from Yosemite national park, Grillz's story begins on a typical afternoon spent growling at marmots and eating tourists. While busy trying to digest one particularly tricky mountain climber, he discovered amongst his possessions something called a 'MacBook Pro'. Fast forward 9 months, 6,000 YouTube tutorials and a duck later and we have his debut creation, The 'High Grade' EP!
Lucii the Alien
Something entirely new has entered Earth's atmosphere in 2017. The producer/DJ Lucii has landed and brought out of this world bass to our globe. Whether you're a human, a humanoid or all-together an alien, her busty beats will get you on your feet and dancing.
Otherwise known as Emily Rose, Lucii is an otherworldly creator of a unique genera called Space Bass. She has already brought her intergalactic sound to this world through festival sets of Pass the Good, Fractal Beach, and many more.
Lucii has come in peace. Her signature style has already seen her accepted and loved by the likes of Yheti, Liquid Stranger, Conrank, The Widdler, Clozee and many more. She landed in 2017, but her music is here to stay until the Earth is no more, where it then will return to the cosmos
About OG Nixin
OG Nixin (aka Luis Casas) has been in the EDM scene since the age of 14, when he was introduced to an extraordinary software called "Ableton". Since that moment OG has been hitting it hard in the scene with his implementation of cunning edge sound design , unique style , and versatility.

Since the conceivement of OG Nixin back in December of 2015, he has thrown down some of the most Catchy Head Banging tunes out there, causing him to achieve a following of over 3,300 (And Increasing) on soundcloud.

In the 7 years of his production career, previously creating Trap and Hip Hop, he has had numerous releases on various networks such as TRAP AND BASS , TRAP SOUNDS , ELECTROSTEP NETWORK and many more under the name '$TRSKY' , "$tarsky and Hutch" , which gained quite a following in a short amount of time.

It is guaranteed that once OG takes the stage and gets into his "Zone" he will deliver one of the most energetic , jaw dropping performances that will have everyone raging throughout his entire set , leaving the crowd with a permanent imprint of the #SamuraiSquad sound. With many already successful releases and dozens of planned releases for the near future, 2019 is looking to be OG Nixin's breakout year.

Venue Information:
Slowdown - Main Room
729 North 14 Street
Omaha, NE, 68102