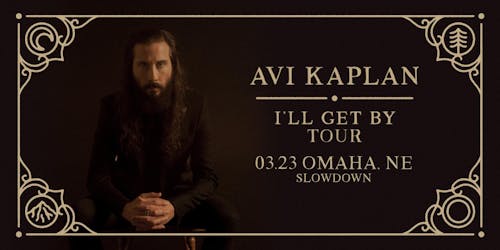 Singer/songwriter Avi Kaplan, formerly of Pentatonix, plays Slowdown on March 23rd.
Doors at 7:00pm
Main Room
$17 Advance/$20 Day of Show
$30 Reserved Balcony
$30 Reserved Pitisde East/Reserved Pitside West
Pitside and Balcony are first come, first pick within the section. See the seating map here.
All ages show. Check entry requirements at http://theslowdown.com/All-Ages
About Avi Kaplan
Website | Facebook | Twitter | YouTube
Avi Kaplan lives deep in the forest near the Tennessee run of the ancient Natchez Trace trail. His rural cabin is worlds away from Los Angeles, his hub for six years as he toured the world with Pentatonix. Now, surrounded by farms and forests just a stone's throw from Nashville, the kid who grew up listening to folk music among the California Sequoias is content. "I'm finally writing the music that is in my heart," Avi says. "It's actually the music I've always written. I've just never had a chance to show people."
In 2017, Avi stepped away from creating after years of rushing from stadium to stadium at a frenzied pace––an experience he calls "beautiful," but one that also left him physically and artistically depleted. Since returning to music on his own terms, the songs have poured out of him, ready for foot-stomping music halls and serious listening rooms alike. He has also liberated his vocals, once so famously known as the perfect power-bass, to reveal a nuanced voice, rich, tender and abounding. Surrounded by forest and newfound artistic clarity, the result has yielded dozens and dozens of new songs. Reveling in the simplicity, "I get on my porch with my guitar, look at my trees, and write a song," he says.
The songs Avi has always written and continues to write are timeless, earthy, and raw––roots music in its purest form. Avi attributes his deep connection to folk music and its authenticity to the natural environment he was surrounded by growing up. Raised just 40 minutes from Sequoia National Park, in the golden rolling hills of central California, "that music always felt right with what I was seeing," the 29-year-old says.
Avi has taken his time, and his future is wide open because of it. As he has rediscovered his own musical roots and delved deeper into the folk he's always loved––exploring a range of sounds from soul to bluegrass––he has reconnected with himself and found yet another way to connect beautifully with others. "I am so grateful I get to do this." Avi says. "I'm truly excited for the future."
About Paper Wings
Paper Wings captivates their listeners with a sound that is delicate, powerful, and refreshingly intimate. The stunning vocal blend of Emily Mann and Wilhelmina Frankzerda soars over a rotating cast of banjo, guitar, and fiddles. These two blossoming songwriters have a distinctive way of weaving traditional Appalachian music in to their thoughtfully crafted songs leaving you feeling nostalgic and exhilarated. They are both exceptionally accomplished multi-instrumentalists, and walk the line between vibrant originality and a deep care for traditional music and its history. They are the 2018 recipients of "A Good Idea" fund from Australian Folk-Pop duo Oh Pep! to sponsor a week dedicated to songwriting. Paper Wings released their self-titled debut album in 2017. Their second album, "Clementine" came out in May 2019.

Paper Wings is a genuine intertwining of two souls you won't soon forget.

Venue Information:
Slowdown - Main Room
729 North14 Street
Omaha, NE, 68102