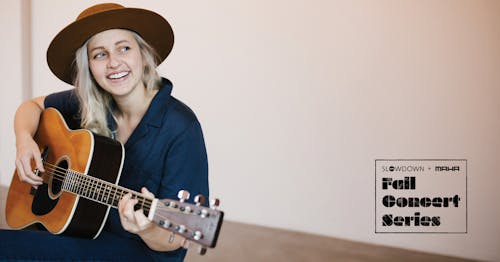 Slowdown + Maha Fall Concert Series
Andrea von Kampen
Matt Cox
$13.00 - $15.00
Sales Ended
Andrea von Kampen will play on September 26 as part of the Slowdown + Maha Fall Concert Series!
This show, which was previously scheduled for August 8 and October 24. All previously purchased tickets will be honored and do not need to be changed, updated, or reprinted.
Doors at 2:30pm
Outside at Slowdown - Rain or Shine
$13 Advance/$15 Day of Show
All ages show. Check entry requirements at http://theslowdown.com/All-Ages
This show will take place in our parking lot, located to the east side of Slowdown. The entrance will be located in the walkway between Slowdown and Hook & Lime. Please abide by the markings on the pavement when waiting in line for entry.
Your safety, and the safety of our team and visiting artists, are our first priorities at Slowdown. We've put measures in place at every guest and staff touchpoint to ensure that your experience is as safe and fun as possible.
The lot will be set up with 10'x10' sections or "pods." Pods are available first come, first pick and have a maximum capacity of 10 persons each. Pods may not be moved or combined. Feel free to bring a lawn chair if you would like to sit during the show.
All guests and staff are required to wear masks when entering and moving about the venue. For example, if you're walking to the bar or going to the restroom, a face mask must be worn. If you are within your pod the use of a mask is recommended but not required.
Be sure to be prepared when you arrive at the venue:
• Bring a mask that covers your nose and face
• Have your ticket and ID ready
• Bags or purses larger than 5"x6" are not allowed
• One folding chair or lawn chair per person is allowed
• Re-entry is not permitted
Our cleaning protocols and precautions have been elevated above the recommended requirements throughout the venue. This includes dedicated staff members for frequent cleaning of high-touchpoint areas.
Hand sanitizer will be available throughout the venue. Staff members will be accessible if sanitizing products need to be located or replenished.
Please refrain from entering Slowdown if you or anyone in your party are experiencing the following symptoms:
• Cough
• Fever
• Shortness of breath
• Other symptom of Covid related illness per CDC Guidelines
Please feel free to contact us if you have any questions, comments or concerns. Thank you for your continued cooperation and support. We cannot wait to see you again!
About Andrea von Kampen
Andrea von Kampen is an independent folk singer-songwriter based in Lincoln, Nebraska, whose effortless vocal delivery has been described by Ear To The Ground Music as having "the conviction of a gospel track and the sincerity of a Dylan folk ballad."
Old Country, Andrea von Kampen's debut full-length album, was released on February 8th, 2019. The album was recorded and mastered in Nebraska and features exclusively Nebraska-based musicians. Inspiration for Andrea's songs often comes from literature, art, and nature; in particular the literature and nature of Nebraska and the Midwest. The title track, Old Country, is based on the book "My Ántonia" by Nebraska author Willa Cather.
Following her debut album, Andrea released a 3-song EP, Twilight & Evening Bell, in October of 2019. PopMatters wrote, "Throughout Twilight & Evening Bell, von Kampen continues to build upon the established strengths of her previous releases. Of the prairie, her songwriting regales in traditional folk melodies that often draw naturalistic pictures."
Andrea has shared the stage with artists such as Mandolin Orange, Trampled By Turtles, Tall Heights, Ira Wolf, The Brother Brothers, Dead Horses, and many more.
Andrea von Kampen first appeared in the public eye with her submission of Let Me Down Easy into the 2016 Tiny Desk Contest. Within 24 hours of submission, NPR Music, All Songs Considered tweeted her video as the featured artist of the day, saying "we were completely blown away." Ultimately, Andrea finished the competition as a top ten finalist, which lead to the increased popularity of her EP, Another Day, specifically her song Trainsong. Since then, her EPs have amassed millions of streams on Spotify and continue to grow.
About Matt Cox
Website | Facebook | SoundCloud | Instagram

Since 2003, singer/songwriter Matt Cox (Omaha, NE) has been recording and performing across the United States both as a solo artist, and with an ever-changing lineup of the area's top talent. The Shenandoah, IA, native (childhood home of the Everly Brothers) blends traditions of country, rock, folk, blues, Tex-Mex, gospel and soul, with his signature road-worn vocals, guitar & harmonica. A seven-time Omaha Entertainment and Arts Award winner (Best Blues 2008, Best Country/Americana 2009-2014, and Album Of The Year 2018, High Places).

Venue Information:
Slowdown - Outside
729 North 14 Street
Omaha, NE, 68102